Disruptile: Kart Racing
A downloadable game for Windows and Linux
Disruptile will have you flinging bombs, smashing into opponents and bouncing around all to win. The stupid-fun knows no bounds in this kart racer and its flowy, drifty controls only adds to the chaos.
New Update
Alpha demo 2 is here!
Are you stuck inside with no excitement? The lockdown will last forever unless you do something fun, play the new update for free and forget about the world.
Updated Content
New Race Track
New Graphics
Updated Controls
Never miss out on exciting new updates by clicking the follow button in the top right.
The Game
Disruptile will split you and 15 other racers into two teams as you race through short, hectic tracks. Score points for your team by placing higher in the race, the team with the most points wins. The chaotic gameplay rewards you for both putting yourself ahead and putting opponents behind.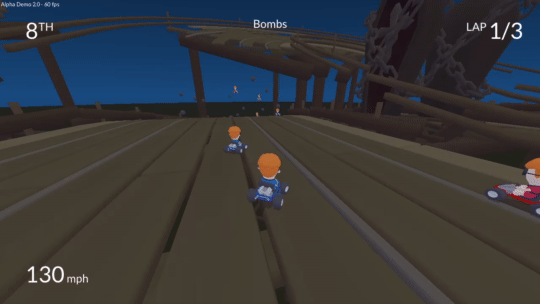 Key Features
Drift Around Corners - Disruptile uses seamless turning controls - removing the need for a drift button. This allows for wide turns, sharp turns or straight up 180s in place.
Items - Layering randomized mechanics makes items unpredictable and chaotic. The same item will produce a different outcome each time.
Race Backwards - You can go just as fast backwards as forwards so why not flex a little and switch it up?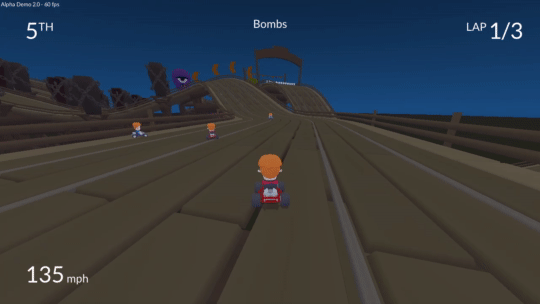 Multiplayer (coming soon)
Disruptile will feature multiplayer lobbies, just like in your favorite classic games. Troll up to 15 of your friends by hosting a lobby or browse lobbies to easily find people to play with.
Development
I'm making this game by myself. With everything being made from scratch to deliver the best, most chaotic kart racing experience ever. For example, having written my own physics code, I can maximize fun over realism. The things I'm doing just wouldn't be possible in off-the-shelf game engines.
If you want to support the development of this game, click the follow button in the top right.
TODO
Networked Lobbies
More Race Tracks
New Characters
New Items
Sound Effects
Visual Effects
Polish & Various Improvements
System Requirements
OS Windows: Windows 7/8/10 or Linux with X11
CPU: 512 MHz 64bit processor
Memory: 750 MB RAM
Graphics: 512 MHz GPU with OpenGL 2.1 compatibly
Install instructions
Unzip
Run Disruptile
Download
Comments
Log in with itch.io to leave a comment.
I might try this & see how it is.
With a little more work, this game could be really good. I like what I see so far